UCAS, Higher Education, Apprenticeships and Jobs
Contents:
UCAS and Higher Education
Apprenticeships and Jobs
---
Why Higher Education?
Think It Through - Opportunities and Benefits
Why take a degree or diploma?
Graduates are adaptable to change. They also have more chance to gain and demonstrate the employable skills of self-management and team working. Research indicates that graduates are more likely to work in high skilled posts than non-graduates.
Higher Education develops:
subject knowledge
independence
ability to learn
constructive thinking
ability to work without close supervision
organisational skills
communication skills
social skills
Higher Education offers the opportunity to:
achieve your full academic potential, possibly up to post-doctoral level
develop your interpersonal and professional skills and so achieve your career goals
realise your full personal and social potential, including sporting, recreational and cultural ambitions, possibly including the ability to travel
take advantage of one of the best 'clubs' in the world - The Student Union
come into contact with students from different countries, cultures and creeds
make life-lasting friendships and relationships; and, if you make the right choices, undergo what could be one of the most enjoyable, exciting and rewarding experiences of your life!
---
Choosing Your University
Where to start?
Selecting your university is an important process and one that has a number of steps to it. We would recommend you consider firstly the course that interests you most to study at university.
You then need to find out which universities offer you these courses - use of UNIFROG, other guides or one of the databases such as ECCTIS, Studylink or Which University. For many subjects (such as English, History, Law, Chemistry) you will find that the list is still very extensive; however, take the time to check that the course offered at each university is what you want. You will find that courses with the same title can vary substantially from institution to institution. By checking the details you might find that you can shorten the list further to institutions that really do offer the course you're looking for. For example, you may want a sandwich course or one that offers the option of studying a foreign language in addition to the main subjects. Send for prospectuses from each unlversity you are interested in if we do not have a copy in Sixth Form. Please do use your tutors, subject teachers and Head of Sixth Form for advice.
---
Map of University and College locations in England and Wales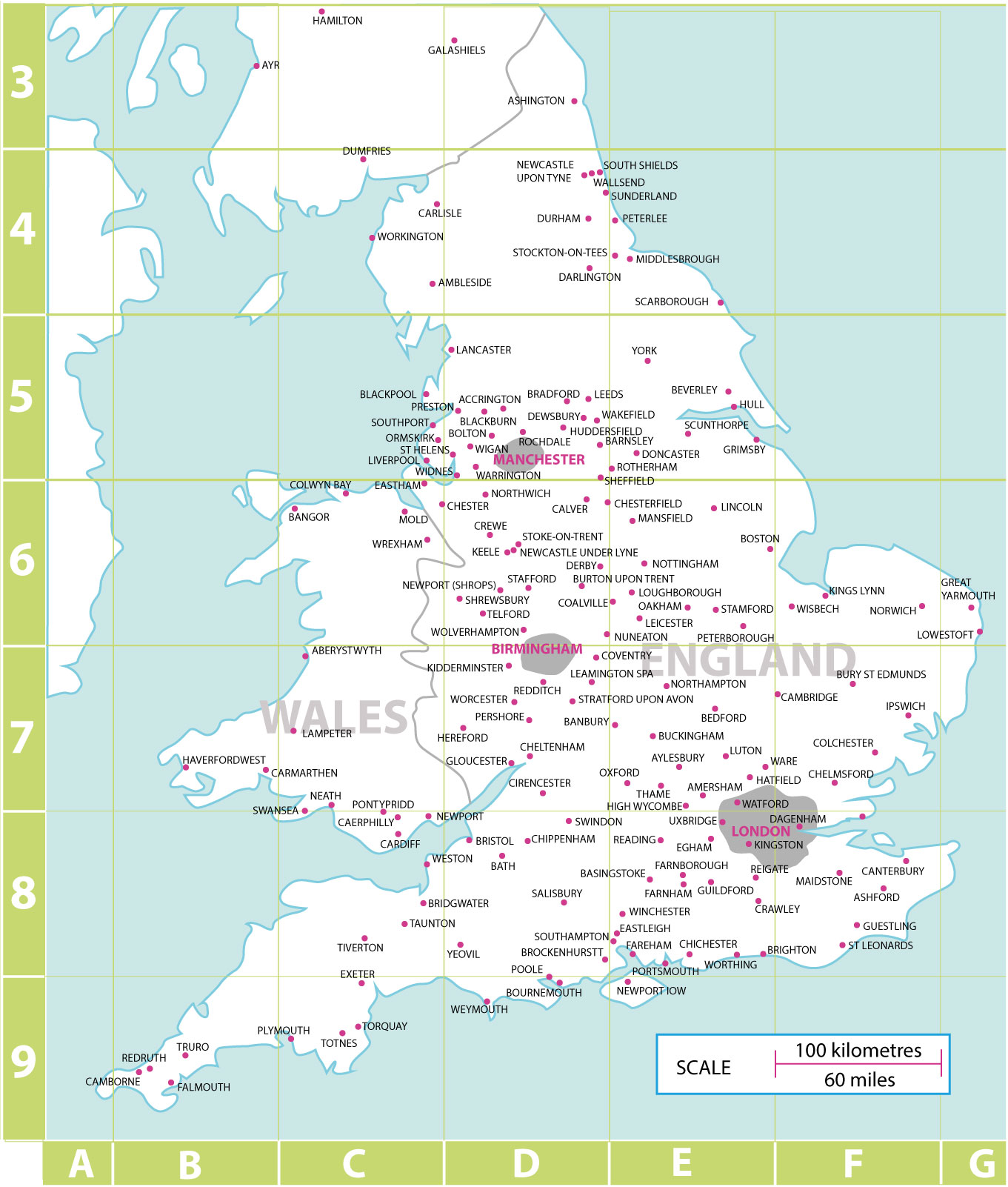 Universities and Colleges Locations Key
University/College
Map Ref.
A
Aberystwyth University
7C
Accrington & Rossendale College
5D
American lnterContinental University, London
Lon
Anglia Ruskin University, Cambridge
7F
Anglo European College of Chiropractic
9D
Askham Bryan College, York
5E
Aston University, Birmingham
Bir
B
Bangor University
6C
Barking and Dagenham College, Romford
Lon
Basingstoke College of Technology
8E
Bath College, City of
8D
Bath Spa University
8D
Bath, University of
8D
Bedford College
7E
Bedfordshire, University of
7E
Birkbeck, University of London
Lon
Birmingham City University
Bir
Birmingham Conservatoire
Bir
Birmingham Metropolitan College
Bir
Birmingham, University College
Bir
Birmingham, University of
Bir
Bishop Burton College, Beverley
5E
Bishop Grosseteste University College, Lincoln
6E
Blackburn College
5D
Blackpool and The Fylde College
5C
Bolton, University of
Man
Bournemouth University
9D
Bournemouth, Arts University College
9D
BPP University College of Professional Studies
Lon
Bradford College
5D
Bradford, University of
5D
Bridgwater College
8C
Brighton and Sussex Medical School
8E
Brighton, University of
8E
Bristol Filton College
8D
Bristol, City of Bristol College
8D
Bristol, University of
8D
Bristol, University of the West of England (UWE)
8D
British College of Osteopathic Medicine
Lon
British lnstitute of Technology & E-commerce
Lon
British School of Osteopathy
Lon
Brooklands College
8E
Brooksby Melton College
6E
Brunel University, Uxbridge
8E
Buckingham, University of
7E
Buckinghamshire New University
7E
C
Cambridge, University of
7F
Canterbury Christ Church University
8F
Cardiff University
8C
Cardiff, University of Wales lnstitute
8C
Central Lancashire, University of
5D
Central School of Speech and Drama
Lon
Chester, University of
6C
Chichester College
8E
Chichester, University of
8E
City and Islington College
Lon
City College Birmingham
Bir
City College Coventry
7D
City of Sunderland College
4D
City of Westminster College
Lon
City University
Lon
Cleveland College of Art and Design
4E
Cliff College, Calver
6D
Colchester lnstitute
7F
Coleg Llandrillo Cymru
6C
Coleg Menai
6C
Coleg Sir Gar / Carmarthenshire College
7B
College of West Angila
6F
Cornwall College
9B
Courtauld Institute of Art
Lon
Coventry University
7D
Craven College, Skipton
5D
Croydon College
Lon
Cumbria, University of
4C
D
De Montfort University
6E
Deame Valley College, Rotherham
5E
Derby, University of
6D
Doncaster College
5E
Duchy College, Cornwall
9B
Dudley College of Technology
Bir
Durham University
4D
E
Ealing, Hammersmith and West London College
Lon
East Anglia, University of
6F
East London, University of
Lon
East Riding College, Beverly
5E
East Surrey College, Reigate
8E
Easton College, Norwich
6F
Edge Hill University, Ormskirk
5C
Edge Hotel School
7F
Essex, University of, Colchester
7F
European Business School, London
Lon
European School of Economics
Lon
European School of Osteopathy, Maidstone
F8
Exeter College
9C
Exeter, University of
9C
F
Falmouth, University College
9B
Farnborough College of Technology
8E
G
Glamorgan, Cardiff and Pontypridd, University of
8C
Gloucestershire College
7D
Gloucestershire, University of
7D
Glyndwr University, Wrexham
6C
Goldsmiths
Lon
Gower College Swansea
7C
Greenwich School of Management
Lon
Greenwich, University of
Lon
Grimsby Institute of Further and Higher Education
5E
Guildford College
8E
H
Harper Adams University College, Newport
8C
Havering College of Further
and Higher Education, Homchurch
Lon
Hereford College of Arts
7D
Hertfordshire, University of
7E
Heythrop College
Lon
Highbury College, Portsmouth
8E
Holbom College
Lon
Hopwood Hall College
5D
Huddersfield, University of
5D
Hull College
5E
Hull York Medical School
5E
Hull, University of
5E
I
ifs School of Finance
Lon
Imperial College London
Lon
Islamic College for Advanced Studies
Lon
K
Keele University
6D
Kensington College of Business
Lon
Kent, University of
8F
King's College London
Lon
Kingston University
8E
Kirklees College
5D
L
Lakes College - West Cumbria
4C
Lancaster University
5D
LCA Business School, London
Lon
| | |
| --- | --- |
| Leeds City College | 5D |
| Leeds College of Art | 5D |
| Leeds College of Music | 5D |
| Leeds Metropolitan University | 5D |
| Leeds Trinity University College | 5D |
| Leeds, University of | 5D |
| Leicester College | 6E |
| Leicester, University of | 6E |
| Lincoln College | 6E |
| Lincoln, University of | 6E |
| Liverpool Community College | 5C |
| Liverpool Hope University | 5C |
University/College
Map Ref.
L
Liverpool Institute for Performing Arts, The
5C
Liverpool John Moores University
5C
Liverpool, University of
5C
London College, UCK, The
Lon
London Electronics College
Lon
London lnstitute in Paris, University of
Lon
London Metropolitan University
Lon
London School of Commerce
Lon
London School of Economics
and Political Science
Lon
London School of Science and Technology
Lon
London South Bank University
Lon
London, University of the Arts
Lon
Loughborough College
6E
Loughborough University
6E
M
Manchester College, The
Man
Manchester Metropolitan University, The
Man
Manchester, University of
Man
Medway School of Pharmacy
Lon
Mid-Cheshire College, Northwich
6D
Middlesex University
Lon
Moulton College
7E
Mountview Academy of Theatre Arts
Lon
Myerscough College
5D
N
Nazarene Theological College
Man
Neath Port Talbot College
7C
NESCOT, Surrey
Lon
New College Durham
4D
New College Nottingham
6E
New College Stamford
6E
New College Telford
6D
Newcastle College
4D
Newcastle University
4D
Newham College London
Lon
Newman University College, Birmingham
Bir
Newport, University of Wales
8C
North East Worcestershlre College, Reddltch
7D
North Lindsey College
5E
North Warwickshire and Hinckley College
6D
Northampton, University of
7E
Northbrook College Sussex
8E
Northumberland College, Ashington
3D
Northumbria University
4D
Norwich City College of Further
and Higher Education
6F
Norwich University College of The Arts
6F
Nottingham Trent University
6E
Nottingham, University of
6E
O
Oxford & Cherwell Valley College
7E
Oxford Brookes University
7E
Oxford University
7E
P
Pearson College
Lon
Pembrokeshire College, Haverfordwest
7B
Peterborough, University Centre
6E
Petroc, Barnstaple
8C
Plymouth College of Art
9C
Plymouth, University of
9C
Portsmouth, University of
8E
Q
Queen Mary, University of London
Lon
R
Ravensboume
Lon
Reading, University of
8E
Regents College, London
Lon
Richmond, The American lntemational University in London
Lon
Roehampton University
Lon
Rose Bruford College
Lon
Rotherham College of Arts and Technology
5E
Royal Academy of Dance
Lon
Royal Agricultural College, Cirencester
7D
Royal College of Music
Lon
Royal Holloway
Lon
Royal Northern College of Music
5D
Royal Veterinary College
Lon
Royal Welslh College of Music and Drama
8C
Ruskin College Oxford
7E
S
SAE lnstitute
Lon
Salford, University of
Man
School of Orientai and African Studies
Lon
Sheffield College
5D
Sheffield Hallam University
5D
Sheffield, University of
5D
Solihull College
Bir
Somerset College of Arts and Technology
8C
South Cheshire College
6D
South Devon College
9C
South Downs College
8E
South Essex College
7F
South Nottingham College
6E
South Tyneside College
4D
Southampton Solent University
8E
Southampton, University of
8E
Southport College
5C
Sparsholt College Hampshire
8E
St George's, University of London
Lon
St Helens College
5D
St Mary's University College, Twickenham
Lon
Staffordshire University
6D
Stephenson College Coalville
6D
Stockport College
Man
Stourbridge College
Bir
Stratford Upon Avon College
7D
Suffolk, University campus
7F
Sunderland, University of
4D
Surrey, University of
8E
Sussex, University of
8E
Swansea Metropolitan University
7C
Swansea University
7C
Swindon College
8D
T
Temeslde College, Ashton under Lyne
Man
Teesside, University of
4E
The College of Law
8E
Trinity College of Music
Lon
Trinity Saint David
7B
Truro and Penwith College
9B
Tyne Metropolitan College
4D
U
UCP Marjon - University College Plymouth St Mark & St John
9C
University College London
Lon
University for the Creative Arts
8F
University of West London, The
Lon
Uxbridge College
8E
W
Wakefield College
5D
Walsall College
Bir
Warrington Collegiate
5D
Warwick, University of
7D
Warwickshire College
7D
West Cheshire College
6C
West Thames College
Lon
Westminster Kingsway College
Lon
Westminster, University of
Lon
Wigan and Leigh College
5D
Wiltshire College
8D
Winchester, University of
8E
Wirral Metropolitan College
6C
Wolverhampton, University of
Bir
Worcester College of Technology
7D
Worcester, University of
7D
Writtle College, Chelmsford
7F
Y
York College
5E
York St John University
5E
York, University of
5E
Yorkshire Coast College of Further and Higher Education
4E
---
Student Finance
---
Applying to University/College through UCAS
Most questions about your UCAS application can be answered by clicking on the help buttons provided. You can also phone UCAS on 0371 468 0468 with your UCAS Personal ID number to hand or e-mail: enquiries@ucas.ac.uk. We highly recommend visiting universities by attending their University Open Days, a list of when these are held can be found at www.ucas.com/open-days. If you wish to attend a University Open Day during the week, please let Sixth Form reception know by writing your name and the name of the university you are visiting in the pink diary.
---
UCAS Tariff Points/Calculator
The UCAS tariff is a points system used to report achievement for entry to higher education in a numerical format. It establishes an agreed comparison between different types and volumes of achievement.
For full updated information, check the UCAS website links below:
---
Your Personal Statement
Advice on the list of topics below and much more can be found under our 'Useful Documents' section here on FP Online:
Please note this information is only available to our students and will require login details.
---
Alternative Paths: Useful Websites
If you are unsure about going to university and feel it may not be for you, then visit www.notgoingtouni.co.uk and do some research on what other opportunities there are after leaving school (using the website links below).
Job Description / Information
General Vacancies
Retail
Leisure & Tourism

Health & Social Care
Hospitality
---
Curriculum Vitae
Advice on the list of topics below and much more can be found under our 'Useful Documents' section here on FP Online:
Please note this information is only available to our students and will require login details.
---
The Interview
Advice on the list of topics below and much more can be found under our 'Useful Documents' section here on FP Online:
Please note this information is only available to our students and will require login details.