Facilities for Hire
Please note - due to the current Covid-19 situation there will be no lettings for the remainder of the school year.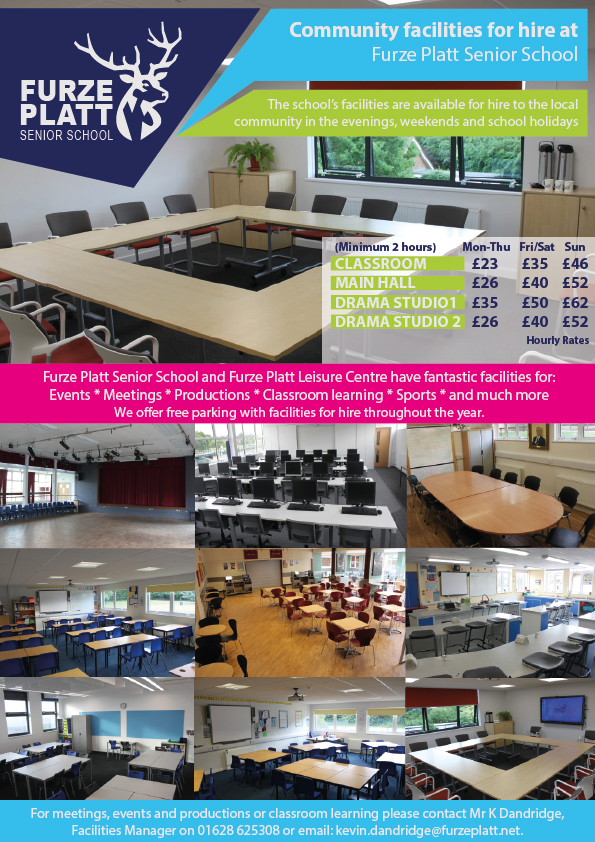 Holiday/Weekend Event costs
Caretaker £100 per event
Kitchen £60.00 per day
Caravan pitch fee £6.00 per pitch per night
*A £50 refundable deposit (made payable to Furze Platt Senior School) will be required, and will be returned at the school's discretion, on termination of the contract.
*An additional premium of 10.5% will be charged to all lettings to cover insurance, in the event that the required evidence of insurance is not provided.
For full details please view our Lettings Policy on our Policies page.
For hire of classrooms, Main Hall, meeting rooms or Drama Studios please contact Mr K Dandridge, Facilities Manager on 01628 625308 or email: kevin.dandridge@furzeplatt.net.
For sports facilities including the 3G pitch, please visit: http://www.leisurecentre.com/furze-platt-leisure-centre, call 01628 308296 (after 4.30pm) or email: furzeplatt@legacyleisure.org.uk