Careers programme information
Careers Leader:
Judith Bubb
Furze Platt Senior School, Furze Platt Road, Maidenhead, SL6 7NQ
01628 625308
SLT member with responsibility for careers:
Lisa Stirling, Associate Assistant Headteacher
Introduction
Furze Platt Senior School aims to ensure that when young people complete their school education, whether at 16 or 18, they are ready for life. As a result, preparing our young people for their future, both for the next steps after Furze Platt Senior School and for the longer term, is at the heart of everything we do. The school provides a range of opportunities and experiences designed to give students the knowledge and skills necessary to successfully make informed decisions about their next steps and future careers, and then to take their place in the world of work.
Gatsby Benchmarks
The school embraces the Gatsby Benchmarks - eight benchmarks that are considered to be the core dimensions of good careers and enterprise provision in schools:
A stable careers programme
Learning from career and labour market information
Addressing the needs of each pupil
Linking curriculum learning to careers
Encounters with employers and employees
Experiences of workplaces
Encounters with further and higher education
Personal guidance
www.careersandenterprise.co.uk/schools-colleges/gatsby-benchmarks
Careers Education Lessons at Furze Platt Senior School
Careers education lessons are delivered through PSHE (Years 7-11) and the Sixth Form tutorial programme (Years 12-13). These lessons cover many of the building blocks of careers education, including why it is important to think about future careers and aspirations, how this links to curriculum subjects, how to find out information about jobs and careers, labour market information, what qualifications are needed and how to develop and market employability skills.
Year 7
What careers education is and why it is important in Year 7
Skills and qualities important for the world of work
Jobs – FPSS as a workplace
How to find information about careers; introduction to the careers websites and platforms – JED (Job Explorer Database), Unifrog
Year 8
Employability skills
Equal opportunities, gender and careers
Part time jobs for young people, what the law says
The changing world of work
Labour market information
Using careers websites and platforms – JED, Unifrog, National Careers Service
Year 9
Employability skills
Decision making, option choices
Beyond GCSEs – 6th form, college, apprenticeships
Careers research using resources such as JED, Unifrog, National Careers Service, Eclips
Labour market information
Years 10 & 11
Options available after Year 11 – 6th form, college, apprenticeships
Individual research into options available
Looking ahead – university research
Applications for post-16 options
Careers research, Labour Market Information
Financial aspects – salaries, deductions, budgeting
CVs and personal statements
Years 12 & 13
Labour Market Information
Alumni careers talks
Graduate employment opportunities
Personalised careers research
ASK apprenticeships
Skills deficit auditing
Creating an evidence portfolio
Interview technique
CV creation/development guidance
Online/virtual work experience and internship guidance
In-person work experience preparation
In Year 12, all students take part in a week of work experience. In both Years 12 and 13, students take part in activities such as career guidance, a programme of external speakers, personalised tutor support and a range of complementary seminar sessions.
Further careers education provision at Furze Platt Senior School
Impartial careers advice and guidance
Students in Years 9-13 have the opportunity for a careers guidance interview. These are carried out by the Careers Leader who has the required Level 6 Diploma in Careers Guidance and Development. Form tutors also mentor their students about their future plans. In Year 11, a record is kept of students' careers aspirations and plans for after Year 11 so that support can be offered if required.
Careers and Higher Education Fair
Since 2013 the school has held an annual Career and Higher Education Fair (CHEF) although we were unable to hold the event in 2019 due to building work or in 2020 due to the Covid-19 pandemic; in 2021 we were delighted to be able to hold the event again at school as usual.
CHEF is open to all students from Years 9-13 and their parents, and regularly sees around 25 universities attending, along with 50 businesses, social enterprises and companies. Students have the opportunity to engage with employers and university representatives and ask questions about higher education and a wide range of careers.
Please click here to see our most recent CHEF programme.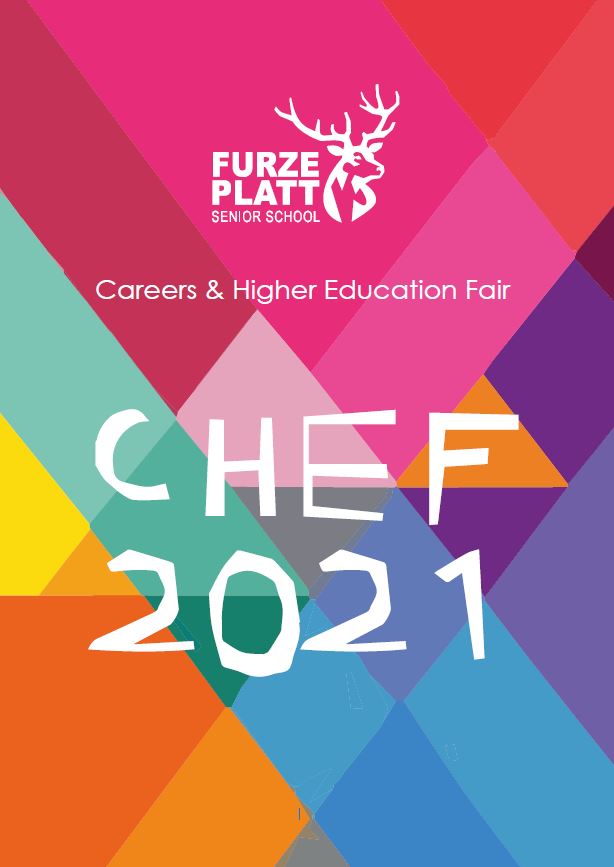 Visits to Universities
Year 10 – all Year 10 students visit a university to see a university first-hand , find out about the benefits of higher education and raise aspirations. The universities students have visited in recent years include Bucks New University, Oxford Brookes University, Reading University, Royal Holloway, Sussex University and Surrey University.
Year 9 – each year around twenty Year 9 students visit Brasenose College, University of Oxford. They gain first-hand experience of a top university and learn the key differences between Oxford, Cambridge and other universities. The visit aims to raise aspirations and increase the number of students applying to Oxbridge and to Russell Group universities.
Local Colleges
All students are made aware of our local colleges through their careers education lessons, particularly in Years 10 and 11, and are encouraged to attend open days if they are interested in finding out more. Some of the colleges attend our Careers and Higher Education Fair, giving students in Year 9 and above the chance to find out what they offer. Students in Years 10 or 11 have the opportunity to visit a college to take part in a taster day. Colleges include BCA, East Berkshire College, Henley College. and Reading College.
Those who decide to apply to college are given support with choosing courses, applying to college and considering logistical issues including transportation.
Apprenticeships
All students are encouraged to consider apprenticeships. Students in Years 9 to 13 have the opportunity to attend a talk by ASK apprenticeships at the Careers and Higher Education Fair. Students learn about apprenticeships in their careers education lesson and we work with ASK apprenticeships to provide students in Years 10-13 with further information about apprenticeships, including the application process.
Further details can be found here: https://amazingapprenticeships.com/about-ask/
Employer engagement opportunities
We value the opportunity for our students to find out about careers and the world of work by hearing from, or working with, local businesses and employers. We would very much like to increase the number of opportunities we can give students to engage with employers and so would be interested to hear from any local company or business that would like to get involved and work with us and our students.
Recent examples of employer engagement include:
Merlin Entertainments – Business and Travel and Tourism departments
National Trust – Travel &Tourism department
Hays Travel – Travel &Tourism department
Thames Valley Police – Criminology department
Prime Minister's Office – Politics department
Glaxo Smith Kline – Science department
UCB Pharmaceuticals - Science department
SATRO – Construction department
Shanly Homes - Construction department
Frimley NHS Trust (midwives) – Child Development department
Maidenhead Magpies - Duke of Edinburgh Awards
Cippenham Primary School - Duke of Edinburgh Awards
Other opportunities for students to gain key employability skills
Duke of Edinburgh Award Scheme
This award is offered at Bronze (Year 9), Silver (Year 10) and Gold (Year 12) levels. In addition, we offer the award to some students as part of their alternative curriculum. There are four aspects to the scheme: developing a skill, a physical activity, volunteering and organising, taking part in and leading an expedition. At Gold level students also have to undertake a substantial residential project. Students develop their confidence, teamwork, resourcefulness, resilience and communication skills and they also have the opportunity are to gain work experience to support their volunteering section. The award is highly valued by employers.
Further details can be found on our website here or at https://www.dofe.org
National Citizen Service (NCS)
Year 11 students are encouraged to take part in the National Citizen Service– a challenge designed to help young people develop skills for employment and for life. The programme runs in the summer holiday after students have completed their GCSEs or when students are in Year 12. Like the Duke of Edinburgh Award referred to above, taking part in NCS enhances students' CVs, university applications and employability skills. Further details can be found here: www.ncsyes.co.uk/
Evaluation and Review of Careers Programme
The careers programme is evaluated in several ways:
Analysis of school's destinations data for Year 11 and Year 13 students, with focus on ensuring the fewest number of students possible are NEET (not in education, employment or training).
Governor evaluation of careers provision.
Regular self-evaluation against the Gatsby Benchmark using the online evaluation tool, Compass+
Feedback from students and teachers about careers education lessons via questionnaires and written comments.
In addition, various aspects of the careers programme are evaluated separately. For example, students provide feedback on their careers education lessons, careers interviews and university visits and any other careers event they experience. Students, parents and visiting employers and university representatives all provide feedback on the Careers and Higher Education Fair.
All our Careers Information is updated regularly and will have an in-depth review in September 2023.
Labour Market Information for Berkshire
Every year the Thames Valley Berkshire LEP (Local Enterprise Partnership) carries out research into labour market information for Berkshire. This includes information about Berkshire's largest employers, the sort of jobs likely to be available, employability skills needed, particular skills shortages, qualifications needed, etc. Click here for the latest version.
Useful Websites
https://www.careersoft.co.uk/Products/Job_Explorer_Database/ Job Explorer Database (JED), lots of accessible information about over 850 different jobs and a career-matching quiz . To use all features of JED requires the school access code; students will be shown how to access in careers education lessons.
https://www.eclips-online.co.uk/index.php Eclips website. Very good for information about careers and for labour market information. Requires the school's licence code, students will be shown how to access it in careers education lessons.
https://nationalcareersservice.direct.gov.uk/ Information, advice and guidance to help make decisions on learning, training and work.
https://www.unifrog.org/ For research about universities, careers and apprenticeships and to record skills and achievements. Students will set up their own accounts in PSHE lessons from Year 7.
https://www.gov.uk/apply-apprenticeship Live apprenticeship opportunities and information on how to register and apply.
http://www.apprenticeships.org.uk/ Live apprenticeship opportunities and information on how to register and apply.
https://www.ucas.com/ Information about all the university courses on offer in the UK.
https://www.theuniguide.co.uk/ Information about universities.
https://www.thecompleteuniversityguide.co.uk/ Information about universities.
https://www.russellgroup.ac.uk/ Information about the 24 Russell Group universities .
http://www.notgoingtouni.co.uk/ Information about alternatives to going to university .
https://icould.com/ Real stories and videos to inspire. Gives a first-hand view of jobs and ideas from accountants to zookeepers.
Short film showing hundreds of real people doing real jobs.
https://www.dofe.org/ Duke of Edinburgh Award. Highly valued by employers, this award develops confidence, teamwork, resourcefulness, resilience and communication skills.