School Fundraiser: Thursday 14th July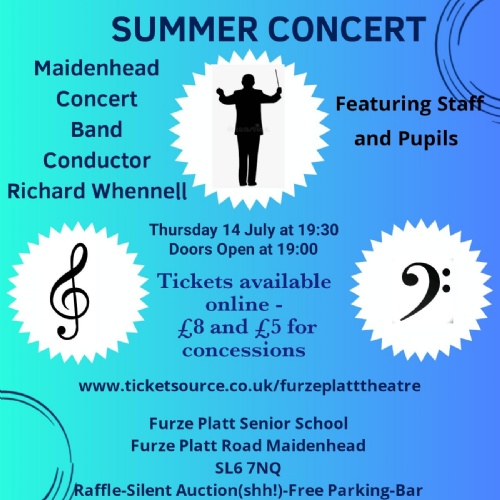 The 50-piece woodwind and brass group is performing a summer concert at Furze Platt Senior School's new state-of-the-art theatre on 14th July at 7.30pm.
Musicians will be playing everything from Glenn Miller to light classical, to well-known Disney tracks at this family-friendly event.
Founded in 1998, the Maidenhead Concert Band prides itself on its links within the town community, welcoming brass and woodwind players of all ages. Highlights include: performing at a Buckingham Palace Garden Party, on an episode of Midsomer Murders and at international rowing competitions at Dorney Lake. The group has also been giving a Christmas concert every year at Norden Farm.
Their founder, Peter Ripper, said: "Maidenhead Concert Band has been part of the Furze Platt and the wider Maidenhead community for many years. We rehearse at Furze Platt Senior School and when the new Theatre opened were delighted to offer our services for a fundraising concert. We are very much looking forward to the event".
Gavin Tisshaw, FPSS Chair of Governors said: "Maidenhead Concert Band generously offering to perform in our new theatre has allowed us to host an event with musicians from the whole school community. Our PTFA will be supporting the event and a Silent Auction and Raffle will be held too. It is an opportunity particularly for our students to perform with a band of over 50 musicians as well as featuring some solo performances. It should be a great fun evening for everyone involved."
Furze Platt Senior School's Headteacher, Dr Andrew Morrison said: "We're very grateful to the band for donating all profits from the show to the school and to our PTFA for supporting the event. I'm looking forward to a great evening of music."
Tickets are priced at £8 for adults and £5 for concessions and can be bought here: https://www.ticketsource.co.uk/furzeplatttheatre
If you can help with Silent Auction or Raffle prizes please bring any donations into Main Reception or contact Catherine Johnstone: catherine.johnstone@furzeplatt.net. Thank you.