Updates, information and links for test results
Dear Parents/Carers,
Please support FPSS by keeping your child at home should they have symptoms, as well as regular testing.
Thank you once again for your support.
Dr Andrew J Morrison (BA Hons, PGCE, MA, PhD)
Headteacher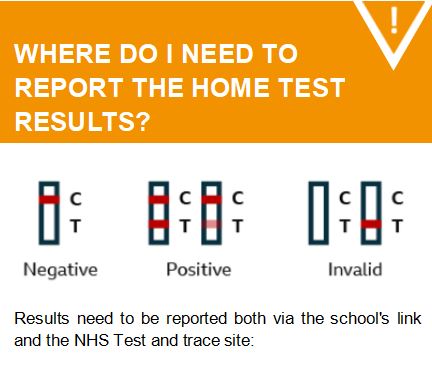 1. NHS Test & Trace self-report website: https://www.gov.uk/report-covid19-result
2. Furze Platt's link for reporting test results: https://docs.google.com/forms/d/e/1FAIpQLSd2SiixuO7d5UmikvlotW7DsGRJpcha2WnC2uxOenioF2Zxhg/viewform
Please ensure that you have completed the testing consent form: https://forms.gle/ysA7pCgNNT9hFv4r6.
Testing for Your Household Bubble
Please follow this link for more information including where to find your local test site or where to collect kits: https://www.gov.uk/guidance/rapid-lateral-flow-testing-for-households-and-bubbles-of-school-pupils-and-staff.
Resources for students in KS3 who are individually self isolating
Please see the link below to find a range of resources:
https://docs.google.com/spreadsheets/d/1K7mfKOTTba5sSSV_1SucZ1jZD_IykhIbRxZg4maWmUk/edit?usp=sharing
Times of the Day for all year groups
Students are expected on site by 8.40am to ensure prompt attendance. All students will start at 8.45am and end at 3.15pm; Form time will run from 8.45-9.15am.
There will be two breaktimes at 11.15am and 1.45pm.
The shape of our school day will be as follows:
Start
Form Time
Period 1
Period 2
Break
Period 3
Period 4
Break
Period 5
End of day
8.45am (prior to 8.40am arrival on site)
8.45am - 9.15am
9.15-10.15am
10.15-11.15am
11.15-11.45am
11.45am-12.45pm
12.45-1.45pm
1.45-2.15pm
2.15-3.15pm
3.15pm

Students Exhibiting Symptoms
If students have symptoms, do not send them to school but please keep them at home and seek NHS advice. Should a student exhibit symptoms in school they will be isolated and parents and carers will be asked to collect their child.
Educational Provision in the case of a Local Lockdown
As we have seen, there remains the potential for a school or local area lockdown.
Please click here to see our Remote Learning Information.
This information is intended to provide clarity and transparency to pupils and parents or carers about what to expect from remote education where national or local restrictions require entire cohorts (or bubbles) to remain at home.
IT Issues
If students are struggling due to IT issues please do contact our IT team at itsupport@furzeplatt.net. If possible, please contact us from the school email address and include your child's full name and year group.
Counselling and Support Services
None of us has experienced anything like Covid-19. As a result, we are all going to have moments when we may need support. Please see the attachment below for a list of Counselling and Support Services.
Thank you - your messages are appreciated
These are just some of the supportive and kind messages we have received from you. We read every single one!
"I just want to pass on my thanks to the staff following the recent parents evening which was our first one with the school (Year 7 didn't happen for obvious reasons). I found all of the staff were hugely positive and encouraging to our son which I obviously hope will provide a boost to his morale and help him working hard for the rest of the school year and beyond."
"I wanted to write to express my thanks to you, your teachers and your staff for all the hard work you have done for the past year to ensure our children continue to be educated despite the strange and trying circumstances we find ourselves in. My son, whilst not always motivated, has been encouraged by his teachers who have also been in touch with us when he hasn't handed work in. This additional aspect shows a caring group of teachers. It can be easier to criticise than praise but I felt it was appropriate to communicate with you and say Thank You!"
"I apologise for not writing before, but I just wanted to thank you and all the staff at Furze Platt for all the hard work they are doing supporting my [children]. As a teacher myself, I know how tirelessly you are all working to give the pupils the best opportunities in this really challenging situation. The change to a full timetable of online lessons has been really helpful and given them much more of a normal structure to the day, which helps to keep them on track with their work. The introduction of the 10 minute breaks between lessons and the longer lunch time has also been a welcome and very sensible introduction. Personally, I have enjoyed getting glimpses of the fantastic lessons [being delivered]. [My child] has felt well supported and engaged throughout due to the great lessons from all her A level teachers. I wish you luck with the return to school . My children are very pleased to be returning in just over a week. Please pass on to teachers of all our children, how appreciative we are of all their hard work and dedication."
"I would like to thank the Furze Platt staff for all the help they have given to [my son] since the start of term. It has made an enormous difference to him being able to come into school on a daily basis. He finds home schooling incredibly challenging. He has thoroughly enjoyed learning in a very small group and has even managed to work independently. This has boosted his confidence which has led to him wanting to be independent in other areas of his life. We are so proud and pleased with this progress. Thank you very much."
"I just wanted to say a massive thank you to all staff for a great parents evening last night. We found it actually even better than the in person version as it was easier to concentrate!"
"Thank you and keep up the amazing work. All the staff at FPSS are doing a fantastic job, I can't imagine what it must be like teaching to a blank screen of teenagers all on mute!"
"I just wanted to feedback that both [my sons] have found the new timetable much better ... Aside from them having to drag themselves out of bed earlier, they both have said the days go quicker, they prefer the lessons to be in smaller chunks to concentrate with the transition time in between and being able to finish earlier. It has made interacting as a family over lunch easier and they've even managed to get out on a walk (all be it a short one!) during their lunch hour 3 times this week."
"Very proud of {my daughter] not only did she get fab feedback in Biology she's now had a lovely email from her History teacher – it's so nice to get this feedback as she's working so incredibly hard at home and [this] gives her a nice little boost."
"We just wanted to pass on our thanks for the great remote learning provision you are providing our child… but also for carrying on adding behaviour points to the Go4Parents system. [Our child] loves checking it at the end of each day and finds it really motivating. We are keen to reward good behaviour and engagement in remote learning as it's so hard for them all at the moment. He is still only 11 and having to do it all independently as we both work."
"I also want to say a massive thank you to you and all the other teachers … You are all just amazing and the school in general with how it's dealt with all of this from the lessons to the perfect communication from the school. I have a lot of friends with kids at other schools and FP is 100% leading the way…"
"Just wanted to say a big thank you to all of the staff at Furze Platt. You are doing a wonderful job and my son is very engaged in his learning. Even though I'm not able to help him all of the time he is accessing everything well. Teachers also respond to emails efficiently and it's much appreciated. From a much less stressed working mother."
"We just wanted to pass on our thanks and appreciation for the fantastic remote learning Furze Platt is providing. [My Partner] and I are out at work and were worried about how [son] would get on independently but it all seems so well organised that he is able to navigate it successfully. Thank you to the team there for all the effort put in to make this happen-we're sure it isn't easy."
"I have been genuinely astounded by the quality of the work given to [my son] through the first lockdown to keep his learning alive and even more so this time around with splendid live lessons. I listen in from time to time when work allows and I think every single teacher is going above and beyond to keep the children focused."