Sixth Form Open Evening - Wednesday 27th November 2019 6-9pm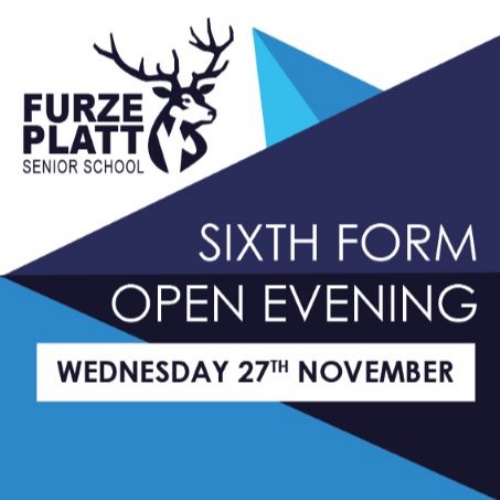 Dear Students and Parents/Carers
Re: Sixth Form Open Evening – Wednesday 27th November 2019, 6.30 – 9.00pm
I am delighted to be able to invite you to the Furze Platt Sixth Form Open Evening 2019.
The primary purpose of this evening is to inform you of the full range of opportunities available to those wishing to take courses beyond GCSE level. We are very proud of our Sixth Form and its record of high achievement and very much hope that the evening will give you all the information necessary in making Furze Platt the Sixth Form of choice for your child. The evening will provide students with the guidance they need to make informed choices when selecting their courses.
Please could we ask you to arrive at 5.50pm as the presentation in the staff room will start promptly at 6.00pm (external students only).
We would ask you to arrive at 6.20pm, as the presentation in the Main Hall will start promptly at 6.30pm (internal students).
The new prospectuses will be available on the evening for you to browse and take away and will be available online at www.furzeplatt.com
The programme for the evening is outlined below. The main presentation will be followed by the possibility of attending up to FIVE talks on various A-Levels and Level 3 Applied courses.
6.00pm – 6.20pm Welcome for external parents and students in the staffroom
External students speak about their experience of the Sixth Form here at Furze Platt
6.30pm – 6.50pm Main Presentation in the Main Hall: introductory talks by:-
Gemma Higley, Daniel Juden, Hollie O'Neill, Daniel Brant (Student Senior Leadership Team) - Welcome.

Mr P Ging, Head of Sixth Form, Dr A Morrison, Headteacher – The Admissions Process; The Curriculum; Induction; Tutorial Programme; Academic Monitoring/Reporting; Preparation for Careers and Higher Education.
7.00pm – 9.00pm
All subject presentations will be available at the following times:
7.00pm – 7.20pm
7.25pm – 7.45pm
7.50pm – 8.10pm
8.15pm – 8.35pm
8.40pm – 9.00pm
These presentations are designed to give students and parents a deeper understanding of subject content and delivery and will allow you to ask questions of subject specialists who teach courses here at Furze Platt Sixth Form. The subject presentations will be the same so you need only attend one for each subject students are interested in during the evening.
We do recommend you see five subjects, even though students will only pick three subjects as standard (in rare cases, some students may complete four A-Levels) as we are eager for students to be as fully prepared and enthused as possible with the options available to them in Sixth Form.
I do hope you will be able to attend this valuable evening and I look forward to speaking to you further about the exciting prospect of your child's progression to post-16 study with us.
Yours sincerely
Mr P Ging
Assistant Headteacher, Head of Sixth Form
There will be a late start to school on Thursday 28th November, with students going directly to their P2 lesson which starts at 9.10am. Students are expected to arrive at those lessons promptly.