Careers and Higher Education Fair 2018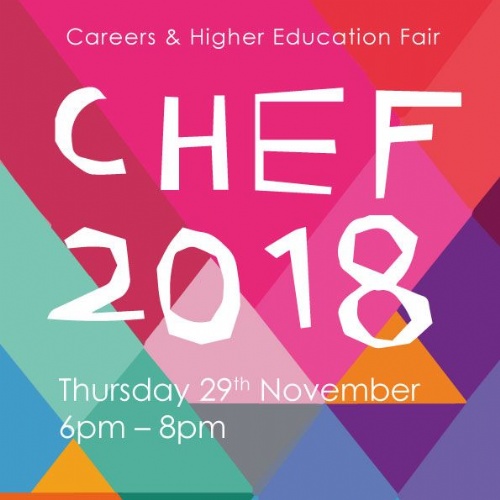 Thursday 29th November 2018, 6pm – 8pm
Our sixth Careers and Higher Education Fair will be held across the school with representatives from a number of universities, employers and apprenticeships showing how our students can access various career and Higher Education paths.
This event is designed to bring students from Years 9-13, and their parents, together with a wide range of employers and universities. This will enable students to consider which jobs and university courses they are most interested in, and to work out which qualifications and skills they will need to develop. Of course, students' ideas constantly change and evolve; the purpose of this Fair is to give students new opportunities to test out their latest thoughts by hearing from industry and university experts.
Our Careers and Higher Education Fair offers presentations and workshops, information on gap years, overseas development, apprenticeships, careers advice and visits from a number of prestigious universities and employers. We have representatives from a wide range of employers including architects, bankers, building services, computing, construction, Emergency and Armed Forces, engineering, estate agents, fashion, healthcare, journalism, law, retail, science, social care and teaching.
We welcome a range of keynote speakers this year on the following topics:
Why go to university? - Portsmouth University. The benefits of Higher Education; Life as a student.
Apprenticeships - ASK Apprenticeships. Find out how apprenticeships have changed. They are now available at four different levels, up to degree level, and in 1500 job roles.
Careers in Computing - British Computing Society. Hear about the sort of jobs likely to be available in Computing/IT in the near future.
Careers in the NHS - Berkshire NHS Trust. Find out about the variety of careers, both medical and non-medical, available in the NHS.
Talks last for 15-20 minutes and are repeated over the evening for maximum attendance.
PTFA refreshments will be available.
We look forward to seeing you there.