New Drama Resources at Furze Platt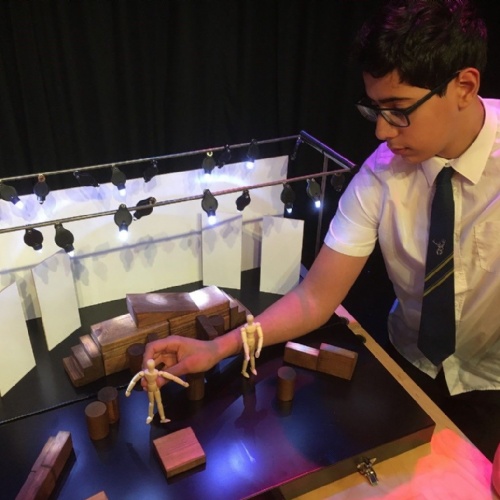 This term the PTFA kindly funded a Theatre-in-a-Box for our Drama Department. The box contains pieces such as rostra block of various size, ramps, cylinders and steps, a beautifully made working lighting rig which provides further authenticity. The Theatre in a Box has been an extremely useful resource, supporting GCSE and A Level students with their visions of their practical coursework.
The PTFA have also supplied the Drama Department with additional staging for their many performances. With the extra sections, they will be able to stage performances in different, more exciting configurations.
Thank you to the PTFA for funding these resources.
Pictured: A El-Guoshi (Year 11) using the Theatre in a Box.
Ways to support our PTFA
If you would be interested in supporting our committed PTFA team you can do so in a number of ways:
· Sign up for our Big Quiz (No.4) on Friday 21st April (food, bar and raffle available). Tickets £15 a head
· Join our 200 Club – only £5 per month, cash prizes available
You can also come along to our next PTFA Meeting on Tuesday 13th June. Starts 7.30pm in the library, all parents, school staff and friends of the school are welcome.
· Two more volunteers required for our Indoor Table top sale. (Any parent who has a stall at the event and is willing to assist in the set up and set down will receive 50% off their stall fee).
· Does your company offer Match Funding? We are keen to hear from parents whose companies offer this. If you have any other ideas that may support our PTFA please do get in touch.
· For further details on any PTFA related queries please email: jeff@iifa.co.uk